Upcoming JUNIOR TOURNAMENTS & Tennis Events:

---
Baldwin County
Tennis Programs

---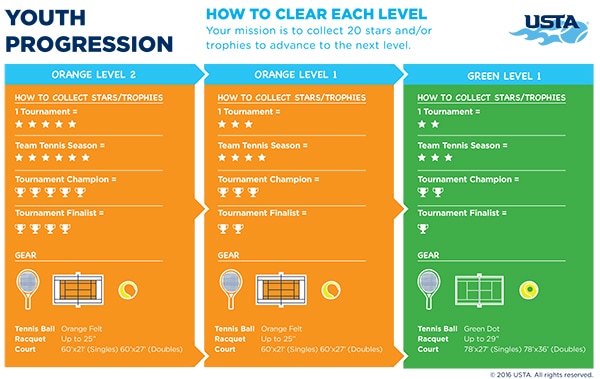 Junior Tournaments links & info:
NEW 2017 USTA YOUTH TENNIS PROGRESSION FAQS:
The USTA has launched the Youth Tennis Progression, which is designed to create an enhanced experience for children starting tennis and playing in junior tennis tournaments. The goal is to ensure that young players ages 7-10 years old are competing at appropriate levels as they progress through competitive stages based on age, participation and achievement. Our system will track the progress of junior players as they advance from Orange Level 2 to Orange Level 1 to Green Level 1 and then to the yellow-level junior/youth competition. (Levels are determined by the type of ball the player is using.) This new system serves as a guide for coaches, parents and players to help ensure that kids 10 and under participate in events using the appropriate ball and court for their skill level.
For more information please click on this link:
http://www.southern.usta.com/Juniors/10_and_under_tennis/existing_players1/#jtt
​​
SOUTHERN PROGRESSION PATWAY APPEALS FORM:
​​
https://form.jotform.com/STAjotform/appeals
---
---